In the turbulent conditions of the global pandemic, we described beauty care trends for staying indoors in a PR campaign for dm drogerie markt. Over the course of three weeks the campaign resulted in thirty references in the media.
The coronavirus pandemic affected nearly all sectors. Companies had to deal with changes in production, trade and sales. Czechs formed brand new habits with regard to work, personal life, and shopping. These changes were significant in the beauty segment. While makeup studios and hair salons were forced to close, drugstores and manufacturers of beauty products transformed their portfolios and communication strategies.
The goal of the campaign for dm drogerie markt was to broaden the debate around home beauty care in the Czech media as well as raise awareness of certain private labels Balea, trend IT UP, and Alverde, which are intended for skin and hair care at home, as well as for manicures and pedicures.
Customer survey among Czech women yielded exclusive data
We decided we would present the new trend in home care, stemming from the closure of hair and beauty salons during the state of emergency, in the form of a survey. It was carried out for us by the STEM/MARK agency. We focused on Czech women aged 25 to 60; this corresponds to the typical target group of dm drogerie shoppers, and we got unique data on the Czech situation.
Thanks to well-designed questioning, we were the first in the beauty segment to highlight the behaviour of Czech women in terms of beauty during the state of emergency, and we brought up their preferences and plans for the reopening of hair and nail salons.
"The survey showed that, once beauty and hair salons were forced to close, 57% of Czech women started to take care of their skin, hair and nails at home. Hair dyeing was the most common procedure. More than one-half of survey participants stated they would continue doing so even once the salons opened. Young women in particular would like to make use of newly acquired knowledge and skills to take care of themselves at home more than they used to," adds Markéta Kohoutková, PR Director at Lesensky.cz.
Survey results opened the door for lifestyle tips and hacks
In addition to results from the survey, we offered media outlets materials with practical tips and tricks for looking after hair and skin, as well as performing manicures and pedicures at home. We also focused on "beauty tips in a time of the coronavirus", e.g. treating skin covered by face masks, make-up for video calls, etc. Lifestyle materials for the media were combined with product tips and photos featuring private label products sold by dm drogerie markt.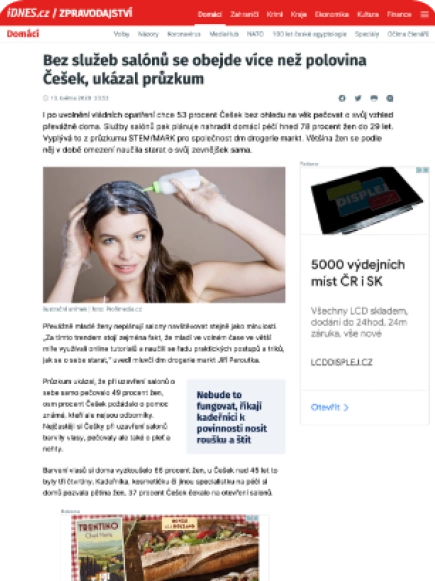 Thanks to a perfectly selected combination of hard data from the survey, directed mainly toward the news media, and popular beauty tips for lifestyle magazines, we managed to reach a wide range of Czech titles.
In just one month, we got more than thirty positive references in the media without any paid advertising. These included the iDnes.cz and Denik.cz news sites, including their regional variants. As for lifestyle magazines, we covered Marianne, OnaDnes and Tina, as well as Madame Business, a magazine aiming at female executives. Product-related tips featured continuously in monthly magazines.
Press packs helped strenghten the bond with journalists
The campaign was combined with individual communication with twenty female journalists who specialise in beauty topics. We sent them packages to their home addresses containing selected beauty products for home care, along with recommendations and beauty tips, and we attached data from the survey.
Our decision to send packages to their home addresses was a response to the fact that most journalists were working from home. This decision allowed us to establish closer relationships with the journalists; plus they had the chance to try the products which then made it easier to cover them.
Our decision to send packages to their home addresses was a response to the fact that most journalists were working from home.
Unexpected challenges during the state of emergency
The unusual conditions under which the campaign was executed posed a series of unexpected challenges we had to deal with. The timeline of the campaign had to be amended several times with regard to government measures on the opening of beauty and hair salons. We always promptly responded to any new, unexpected developments and were able to provide necessary information to the media in due time, thereby increasing the reach of the campaign.
"IN JUST A FEWS DAYS WE CAME UP WITH A CAMPAIGN WHOSE MEDIA IMPACT WAS A PLEASANT SURPRISE. WE APPRECIATED THE FLEXIBLE COMMUNIATION AND THE ABILITY TO RESPOND TO CHANGING CIRCUMSTANCES. WE'RE LOOKING FORWARD TO FUTURE COOPERATION."

Jiří Peroutka, Communications Manager, dm drogerie