Implementation time
90 days
2020
Website for Intezze earphones
We designed a modern, fresh-looking website which effectively presents and sells a young, progressive brand.
Pokračovat
Intezze
Intezze is a Czech brand of wireless earphones founded by a team of experts in earphone audio technology. It became a passion and ultimately grew into a full-scale business. Two years ago, the guys from Audigo.cz, who were already running a specialised e-shop and stores with audio equipment and studios, decided to launch their own brand True Wireless earphones. That is how the Intezze brand was born. Sound that generates passion, 100% tuned technology, excellent value for money. Intezze products are sold by the largest Czech e-shops dealing in personal electronics and favourable reviews keep pouring in! 
Client's requirements and our mission
The client approached us with a request for long-term cooperation in the field of marketing and PR. Our cooperation started with a comprehensive marketing analysis. We focused on the strengths and weaknesses of the current brand communication; we compared it with that of competitors, and our analysis concluded that the visual identity needed fine-tuning and a new website needed launching.
We worked on the website from the initial idea, to UX and layout, through to the final programming. We were also fully in charge of the website's texts, most photos, and all 3D renderings of the earphones. What emerged is a modern, fresh-looking website which effectively presents and sells a young and progressive earphone brand.
Project team:
Project management
Roman Kučera, Michaela Kurtaničová
Graphic design
Ivan Kebeleš
UX
Michaela Kurtaničová
Development
Jan Polzer
Copywriting
Michaela Kurtaničová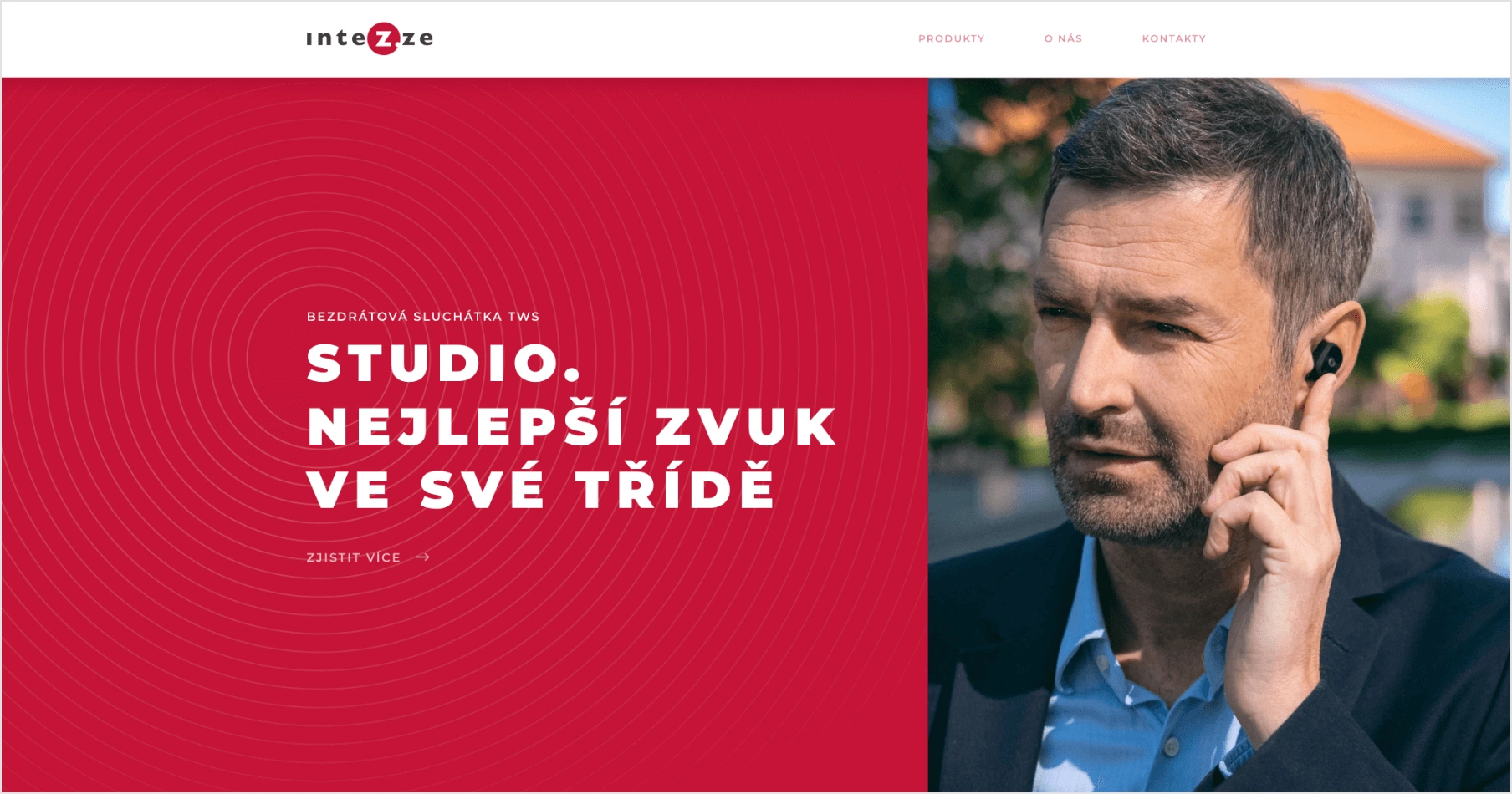 A website tuned to the brand tone
Based on the Intezze logo, we came up with a comprehensive brand manual defining graphic elements and their use, including those on the website.
The Intezze brand is defined by bold crimson, a graphic element of acoustic waves, tasteful and modest secondary colours (pink and purple) and a distinctive typeface. Selected elements were incorporated in the visual style of the new website, creating an original, fresh and memorable design.
Professional photos and detailed product rendering
Professional visualisation of the product is key – not just for the website, but for the marketing communication as a whole. To get the most dazzling result possible, we chose presentation in the form of photos and 3D rendering.
Rendering allows us to showcase products in the astonishing detail they deserve. They can be worked with again in future, and used from any angle, forming an excellent resource for further promotion. The precision of the rendering technique is combined with stylish product photography to demonstrate water resistance, durability, and low weight.
Product pages tailored for every model
Every product page is unique in terms of content. We wanted to give space to communicate the unique functionalities and benefits of every model.
Product detail opens with a prominent header and a large visualisation of the earphone model. The initial description features original pictograms of key functionalities of the model. They enable users to quickly orient themselves, guiding them to detailed technical specifications, that we have supplemented with prominent graphic elements, such as photos and 3D rendering.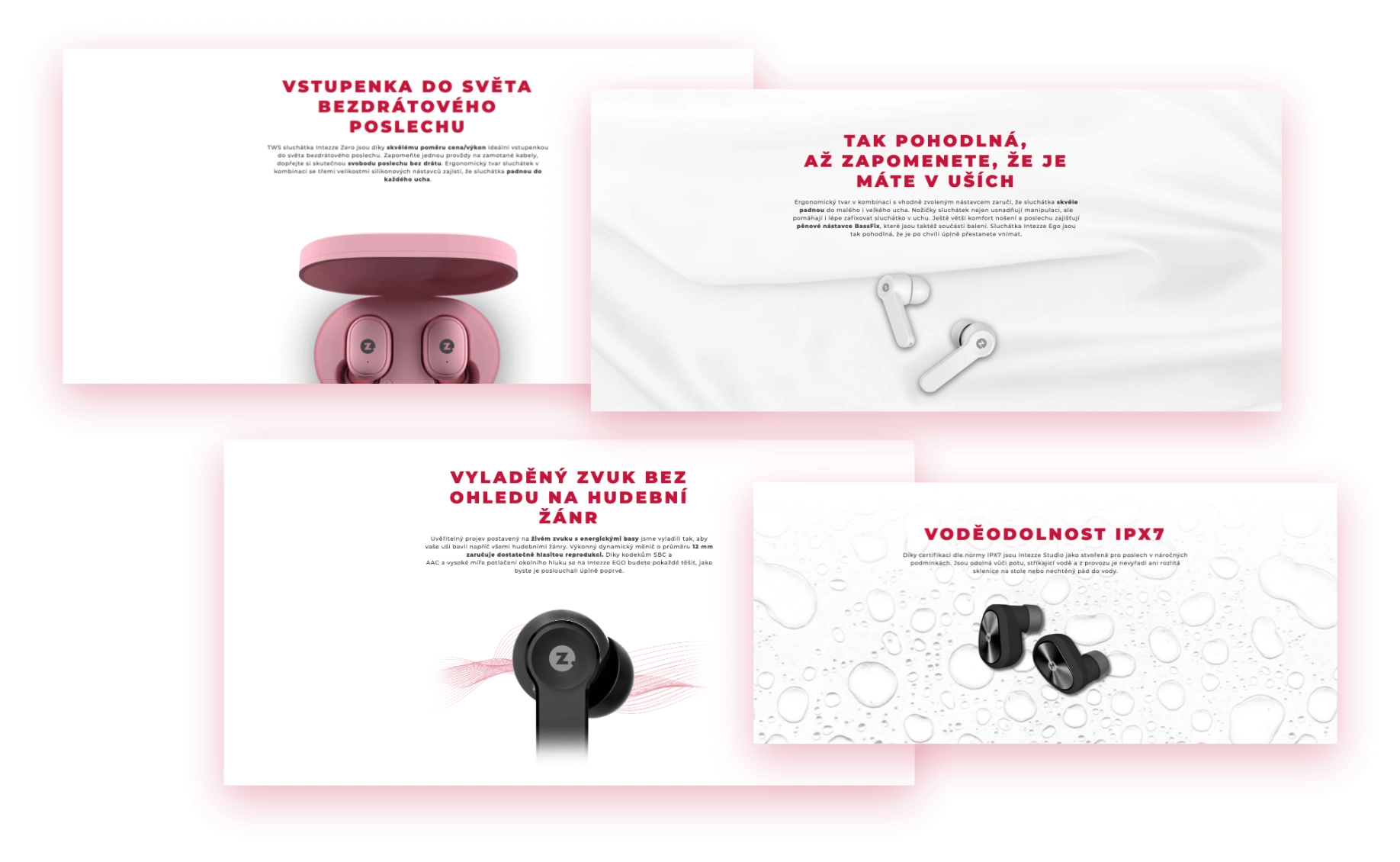 Professional website as the basis for an e-shop
The online presentation of Intezze earphones was developed in two stages. While the Intezze brand website is now online and indexed by browsers, and can be used by the client in their B2B and marketing, the next stage will consist of sorting out e-shop functionality for end customers.
We are now co-operating with the client in fine tuning the ordering process and payment gateway, and linking those up with transport, warehousing and logistics functionalities. In a short time we shall be able to launch another key part of the website, and the current "presentation" will turn into an fully fledged e-commerce channel.
Main design elements
Completely responsive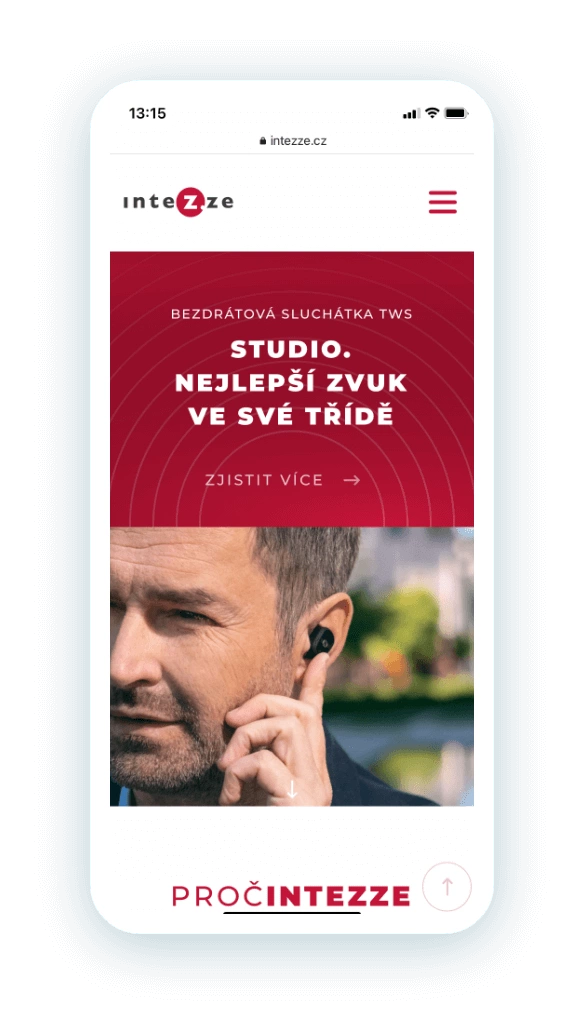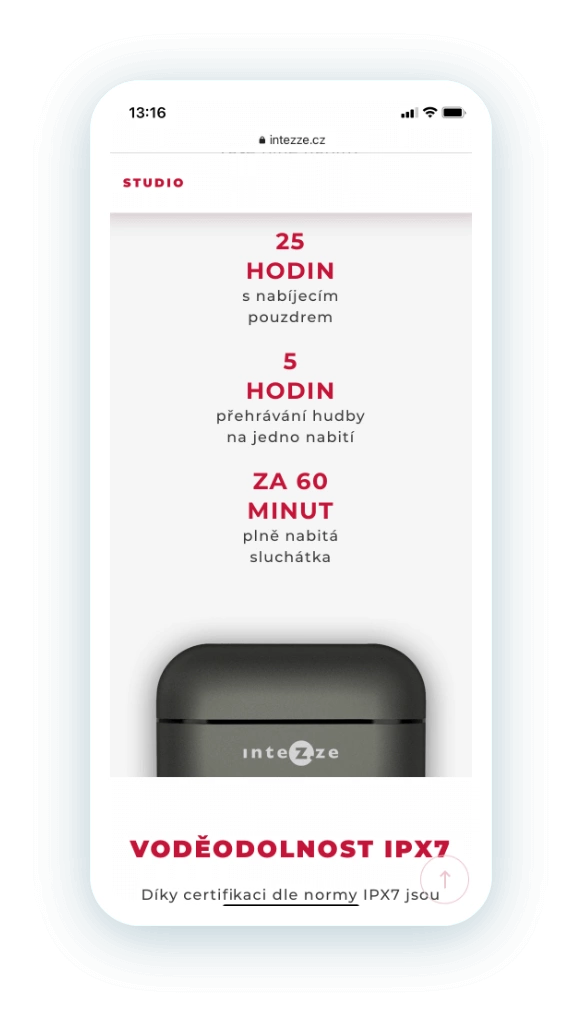 More website pages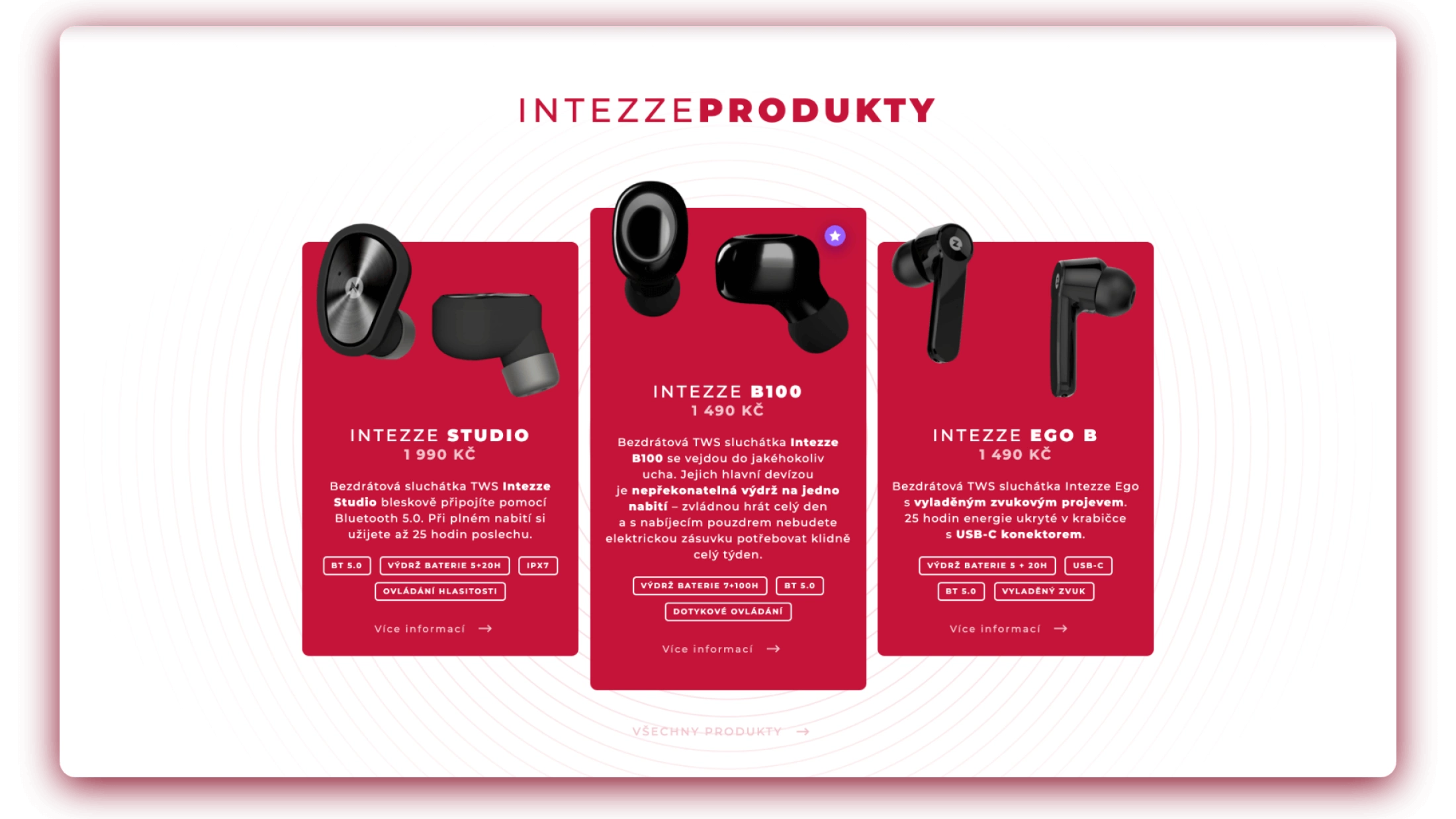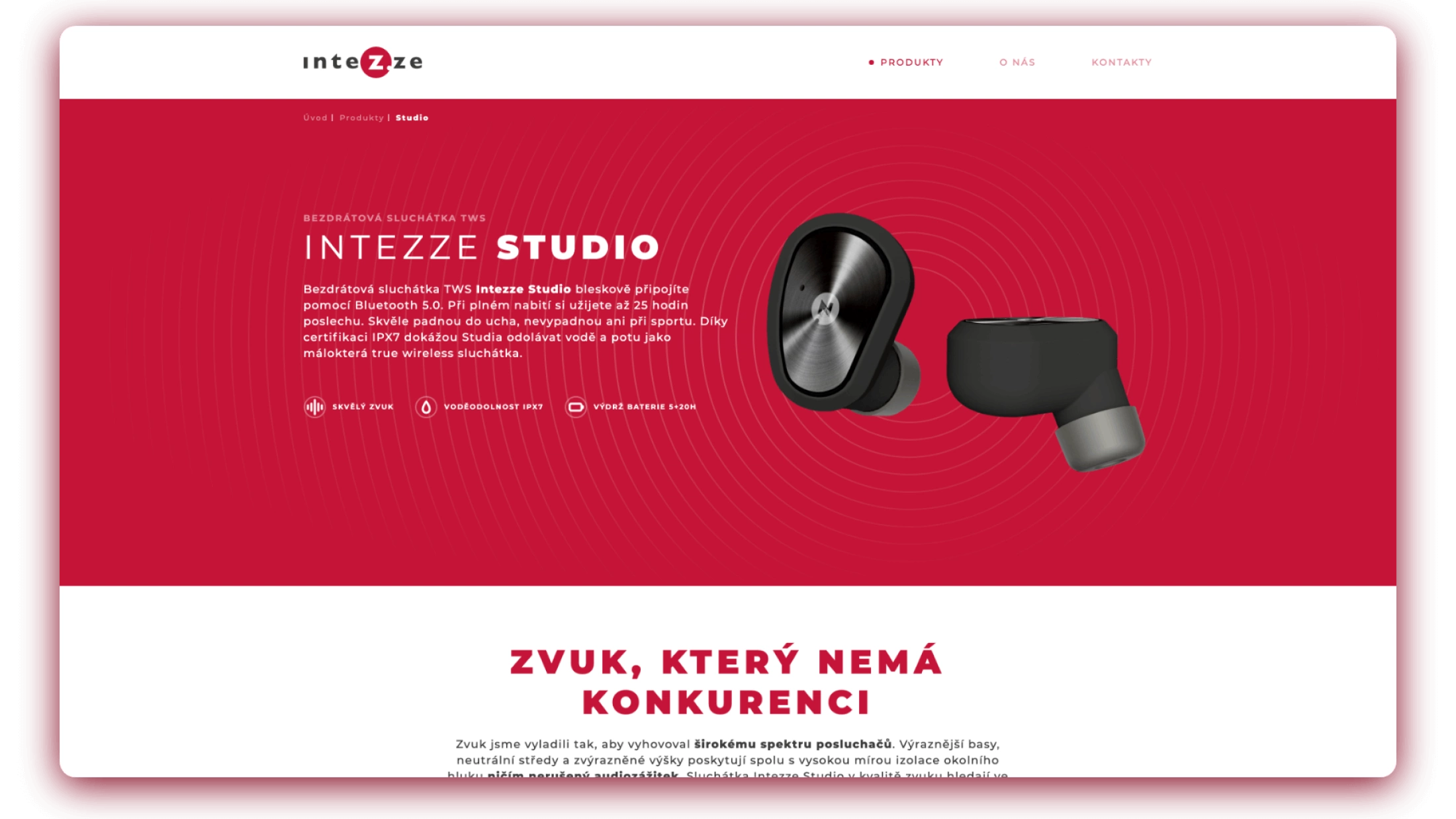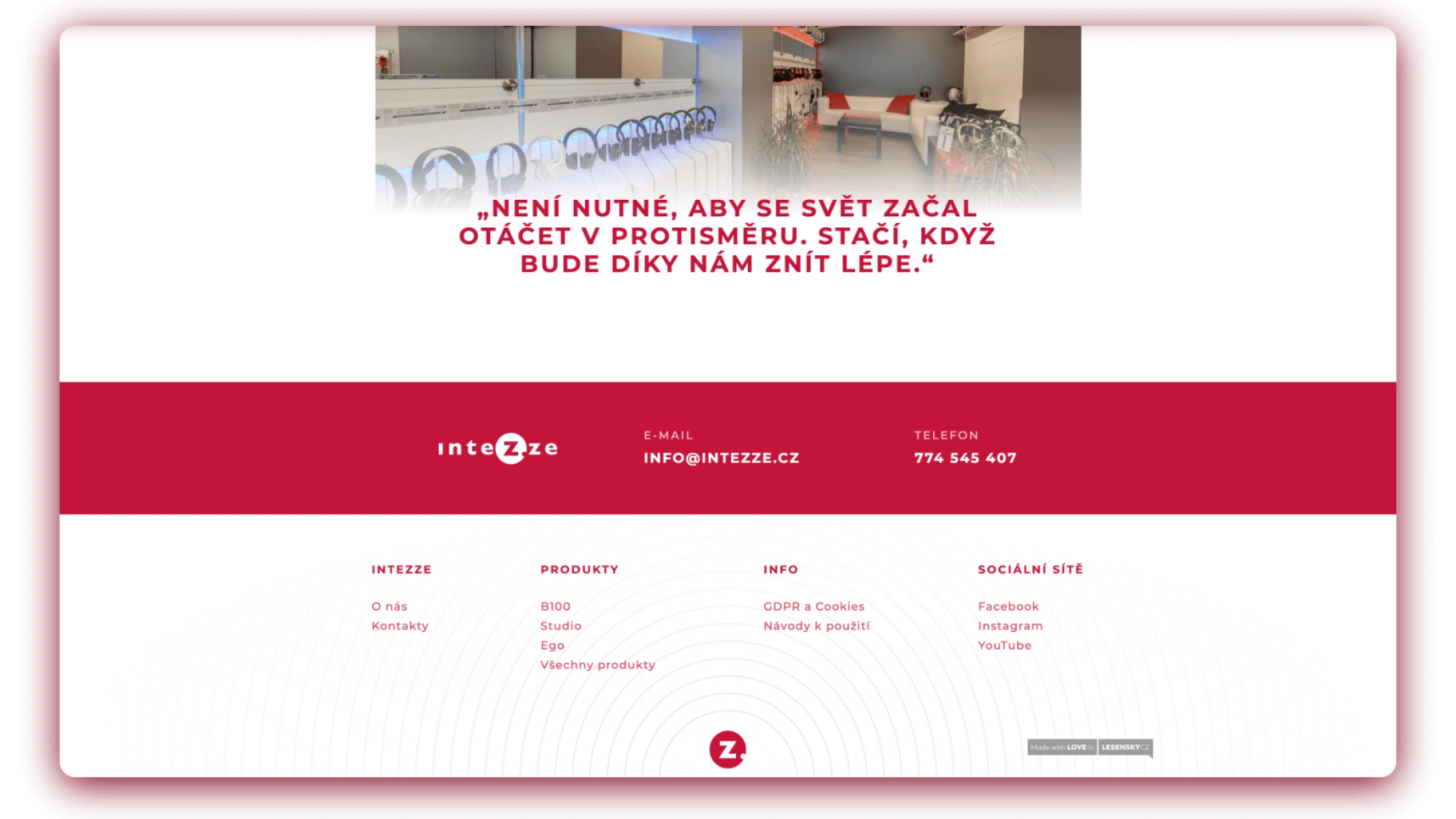 SUCH FINE-TUNED PRODUCTS DESERVE A WEBSITE THAT REALLY RESONATES. FOR THE WEBSITE WE DIDN'T SHY AWAY FROM USING BOLD COLOURS AND UNUSUAL ELEMENTS. WE'RE SATISFIED WITH THE RESULT. HOPEFULLY IT WILL SERVE OUR CLIENT WELL AND THEIR CUSTOMERS WILL FIND EVERYTHING THEY NEED.

 Ivan Kebeleš, Senior Graphic Designer, Lesensky.cz